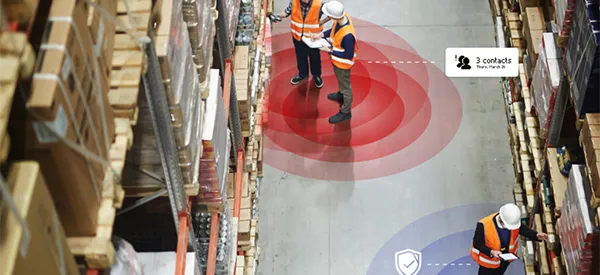 Haytham Elhawary's Kinetic Lands $11.25M Series A For Wearable Device (SLP New York, 2011)
Dec. 28, 2020, 11:40 a.m.
Kinetic's Reflex is a smart wearable that monitors body mechanics to reduce the risk of bodily injury on the job. In response to COVID-19, Kinetic has adapted the Reflex to help workers maintain social distancing guidelines on the job.
Worn clipped to a belt, the standard Reflex uses smart sensors to detect and analyze the posture of workers as they move. If an employee performs excessive or unsafe movements, such as bending, twisting, or reaching, the device vibrates to alert the wearer. This real-time feedback increases individual kinesthetic awareness and supports safe posture and alignment.
With the latest upgrade, Reflex now assists workers in maintaining social distancing guidelines with the addition of real-time proximity alerts and contract tracing capabilities. Advanced sensors detect and send alerts when employees come too close. The device then transmits contact data to the dashboard for further analysis.
The company on Tuesday announced an $11.25 million Series A funding round led by existing investor Crosslink Capital. The firm was joined in the round by existing investors Primary Ventures and Nationwide, as well as new investors Prologis Ventures and Ubiquity Ventures. The company has raised approximately $17 million since it was founded in 2014, including a $4.5 million seed round in 2018, according to Crunchbase data.
Kinetic intends to use a big chunk of the new investment on manufacturing. The company also plans on significantly increasing its hiring next year. In addition, the company will continue to grow its sales and product development, including capabilities in contact tracing, proximity alerts and data science.
Read more: https://bit.ly/39zGGoQ
Website: https://www.wearkinetic.com/