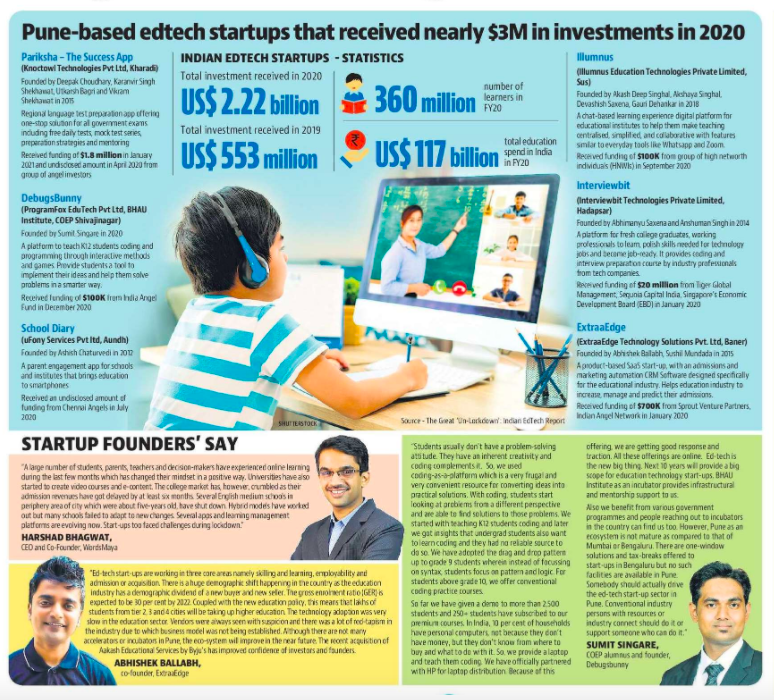 Three SLP Pune Edtech Fellows Featured in Hindustan Times
May 14, 2021, 4:53 a.m.
Karanvir Singh (SLP Pune, 2013), Founder & CEO at Pariksha, Harshad Bhgwat (SLP Pune, 2015), Founder & CEO at WordsMaya and Abhishek Ballabh (SLP Pune, 2014), Co-founder ExtraaEdge - all featured in the Hindustan times where they talked about the funds raised and growth and opportunities for Edtech Startups.
WordsMAya is an edtech startup on a mission to empower students and professionals with professional communication skills to make them employable and more effective at their jobs. WordsMaya works for employee learning and development for corporates as well as employability training for institutes with online blended (app+trainer) courses.
WordsMAya recently partnered with AICTE to improve placements of institutes.
ExtraaEdge is a data science-driven Sales and Marketing software developed for Educational Institutes. Focused on increasing student enrollments and optimizing the marketing cost via automation and analytics.
Read more: http://bit.ly/3ciWVrr
Websites: https://www.pariksha.co/