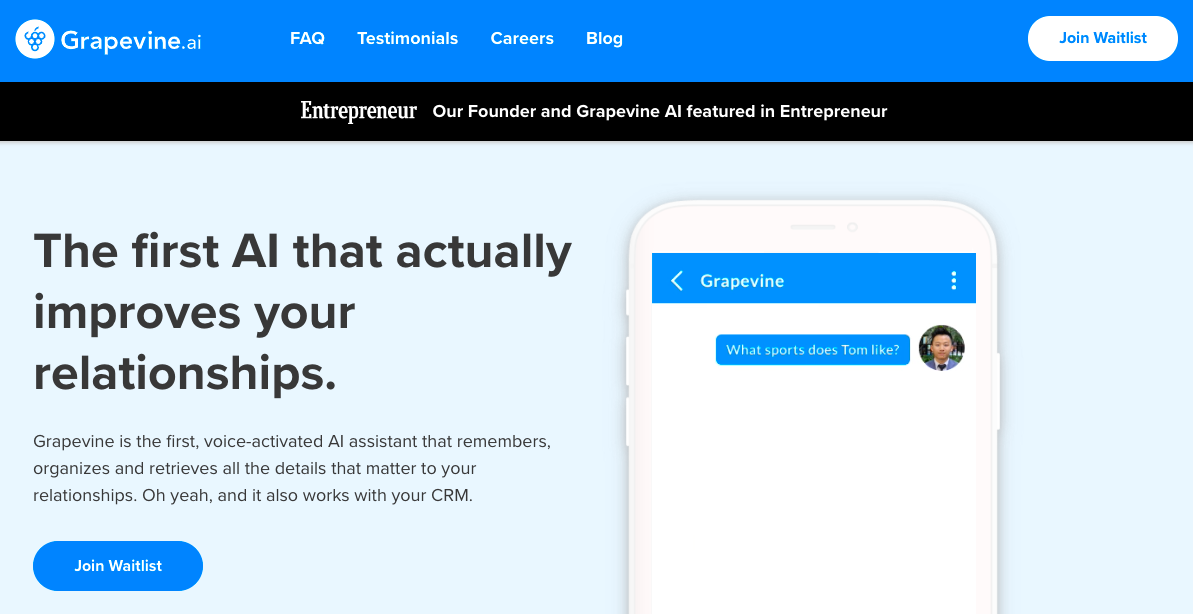 Andrew Reiner's Grapewine AI (voice-activated, AI assistant to CRMs; SLP New York, 2020) Raise $1.9M pre-seed round
June 3, 2021, 1:16 a.m.
Grapevine is your AI powered personal assistant. Salespeople literally just talk to it about the people they've spoken to and it builds a contact and stores the information - ready for whenever they need it taking the work out of working with their CRM. So they can close more deals and build authentic relationships.
Grapevine AI is excited to share that we raised a $1.9M pre-seed round from strategic investors including Jeffrey Silverman, GoAhead Ventures, Big Red Ventures, TiE New York, Jonathan Shipman (Founding Member of Twitch), Elizabeth Burrell (General Counsel at Twitch), Paul Pickle, Kae Huynh, Rich Palmer, Neil Sahota (萨冠军), Leslie C. G. Campbell, Kimbark Capital among others.
Grapevine AI's mission is to combat the bedlam of napkins scribbled with details, contact apps, transcription services, notes on the backs of business cards, post-it notes riddled all over people's desks - the endless clutter of information. There may be a myriad of social media platforms, but no single source of truth or way of organizing the mayhem.

Website: https://grapevine.ai/