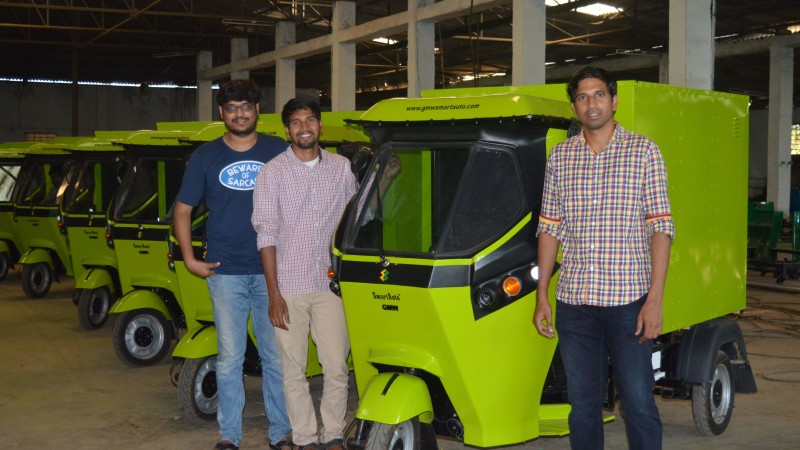 Economic Times talks about Gayam Motor Works racing ahead in the electric automobile industry in India (SLP Hyderabad, 2012)
April 9, 2018, 4:18 a.m.
Gayam Motor Works (GMW) are India's very first automobile brand designing, manufacturing and selling electric vehicle to more than 15 countries including India, Egypt, Japan, Bangladesh. They build electric vehicles to promote the concept of clean and sustainable living, with a vision to make the future of transportation smart and electric. They have launched a total of 5 vehicles in this space that includes electric bike, 3-wheeler electric auto, 3-wheeler electric goods carrier, 3-wheeler electric auto rickshaw and 4-wheeler auto rickshaw.
Sri Harsha Bavirisetty is the the COO at GMW, with a education background of computer science and management studies. "Transportation comprises 51% of pollution in India, and 75-80% in urban areas according to Petroleum Conservation Research. About 22 of 50 urban areas with the worst air pollution are in India, with New Delhi is the most polluted city on earth. More than 10 lakh deaths in India are caused due to air pollution annually. While large automobile companies are focusing on electric cars and scooters, we saw a huge opportunity in the electric three-wheeler space.Electric vehicles produce zero direct emissions, which specifically helps improve air quality in urban areas", says Sri Harsha Bavirisetty in an interview with Economic Times.
Covered by Economic Times: http://bit.ly/2leXdna
Website link: http://www.gayammotorworks.com
(Image credit: GMW)